WRITER GOPIKRISHNAN (1945-may 10, 2003)!

- Latha Ramakrishnan -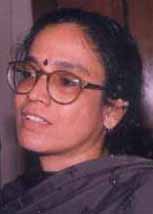 Despite his mother tongue being Sourashtra Mr.Gopikrishnan had been writing in Tamil, mostly in small i.e., literary magazines till his untimely death on the 10th of May, 2003. A post-graduate in the faculty of Psychology and also Social-Work he had worked in various Social-Welfare Organizations. He was well-versed in the field of anti-Psychiatry also. He had penned quite a number of important works in Tamil and his short-story collections- Mudiyadha Saman(The Impossible Equation-1999, Thooyoen(the Puritan-2000), Maanida Vaazhvu Tharum Aanandham(The Happiness that Human Life Offers) -2002, Ovvadha Unarvugal-(Feelings Unbecoming)1986 (which is a book of short-novels) and a novel titled 'Ullaeyirundhu Sila Kuralgal(Some voices from within-1983 and a small hand-book on the salient features of social work called 'Samoogappani, A-Samoogappani, Edhir-Samoogappani (Which was recently rendered in English by me under the title Social-Work, A-Social Work, Anti-Social-Work) a book on the problems of the Mentally-Ill captioned 'Konjam Avargalaip Patri' (A Little About Them) and his last short-work a volume of short-stories called 'Idaaginip Paeigalum, Nadaippinangalum, Udhiri Idaith Tharagargalum and quite a number of articles on various social issues bear testimony to his sincerity and significance both as a human-being and a writer. He had also contributed significantly in the field of translation . He had also taken an active part in the making of CRE-A's (an esteemed publishing concern in the city of Chennai) Tamil-to-English Dictionary.

Having worked in various Social-Welfare Organizations, Mr.Gopikrishnan's writings deal with the chaotic conditions in the field of Social-Work and also in Psychiatry. The author had deep compassion for the have-nots and the down-trodden and also those labeled Mentally Ill and this comes forth tellingly in all his works. His stories are significant for the way they present the unpredictablities and the monotonies of life and also its injustices and disparities in a light-hearted, at the same time poignant, vein. The element of humour with its under-current of pathos and righteous indignation is the hall-mark of his works. His life-style was also such, simple with bare-minimum needs. He never compromised on his principles to make living easy. An unassuming person who suffered from depression but who had the mental strength to transform it as the driving force of his creativity he was never a self-promoter. Hence, as long as he lived his writings never helped him to meet his daily needs. No laurels came his way. Nevertheless, his short-stories are avidly read by discerning readers.
Some of his short-stories are rendered in English by me. - latha Ramakrishnan -


1) Social – Work

(A short-story in Tamil by writer Gopikrishnan, titled 'Samoogap-pani'- translated into English by Latha Ramakrishnan)

'Jaangu Chakku Jajakku Chakku Jaangu Chakku Chcha.

" Name? "
" Susee."
" Shouldn't tell all your nicknames and pet-names. Tell your full-name."
" Suseeladevi. "
" What Suseeladevi? "
" Suseeladevi means Suseeladevi only. "
" I'm asking your initial."
" O! A "
" O.A.Suseeladevi. "
" No,no. The ' O ' is to tell you that I have understood your question. ' A' alone is my initial."
" So, A.Suseeladevi. "
" Yes indeed. A.Suseeladevi. "
" Miss or Mrs? "
" Mrs "
" Oh lord. At last you have mentioned your full name. Congratulations ".

----------------------
Jaangu Chakku Jajakku Chakku Jaangu Chakku Chcha.

" Your name Please? "
" Mrs.Sridhar. "
" Please tell your own name also along with it. "
" No please. After marriage my own name and all that go with it are lost to me for ever. "
" It's alright. Tell. We are there for you. "
" Mrs. Kamala Sridhar. "

----------------------

Jaangu Chakku Jajakku Chakku Jaangu Chakku Chcha.

" Name Please? "
" Kamatchi Ammal. "
" So, you yourself have suffixed ' Ammal ' to your name? Tell just your name. That's enough.
" Kamatchi. Usually people add Ammal when one grows old. Isn't that so?. That's why. When young I was called Kammu, then Kamatchi, now Kamatchi Ammal."

" Hope under the grip of devotional frenzy you won't change into Kamatchi Amman."

----------------------

Jaangu Chakku Jajakku Chakku Jaangu Chakku Chcha.

" OK, Tell the Pincode ".
" Small village Sir. No number for all that."
" !!!!!. "
----------------------

Jaangu Chakku Jajakku Chakku Jaangu Chakku Chcha.

" Give your address. "
" Jagannathapuram."
" First, tell your door number. "
" Door Number? "
" Yes, the door number of your home. "
" That is no home sir."
" True, the homes of most of us are no homes at all. With conflicts and quarrels they would surely be worse than hell, I know. But, for God's sake, don't talk Philosophy now. Please tell the door number of your hell. It's getting late. See, how many more are standing behind you."
" I didn't say so in that meaning sir. Mine is no home. It's a hut. "
" Ok, tell your hut number. "
" But, huts don't have door number, sir, "
" Alright, so the address is not known correctly. "
" Not so sir. If you come to Jagannathapuram and utter just my name anybody would tell you my place. "
" God. OK, now you please go. Damn me. "

----------------------

Jaangu Chakku Jajakku Chakku Jaangu Chakku Chcha.

" Is your husband with you? "
" No. Sir. "
" Where is he? "
" He has gone out of Station. "
" Out of Station? Has he gone on a tour? "
" No sir, he has left our home once for all. "
" Since how many yeas before? "
" Two days back "
" !!!!! "
---------------------------
Jaangu Chakku Jajakku Chakku Jaangu Chakku Chcha.

" Is your husband with you? "
" No Sir, "
" No means? Has he left you or is he no more? "
" As if he would die. He is there like a hard-rock, having a jolly good time with a bitch. " Me alone, he has left in lurch. "
( ' Hear her defensive tone even after having been left in lurch. Fool ' )
----------------------

Jaangu Chakku Jajakku Chakku Jaangu Chakku Chcha.

" Is your husband with you? "
" No Sir, he has left me. All because of his leaning towards another bitch. "
" Alright. Please do tell that lady also. After your husband's thirst for this lady is over, ask her also to come here and give an application. Seems like your husband would go on producing hapless ladies. And, we would also be blessed with the opportunity of helping more and more discarded women. "

----------------------

Jaangu Chakku Jajakku Chakku Jaangu Chakku Chcha.

" Is your husband with you? "
" No Sir, He is dead and gone. "
" How many children? "
" Four "
" Anyone doing any kind of job? "
" No Sir. All small, little kids. "
" Where are you working? "
" In our house madam "
" In your house itself? "
" No, in a bungalow. "
" How much do you earn? "
" They give hundred rupees along with giving two meals a day "
"Where do you live?"
" In a hut Sir "
" How much do you shell out as rent? "
" Ninety rupees. "
" Is there anyone else lending you help? "
" I swear by god-there is none to help me sir. "
" So, after giving away ninety rupees by way of rent your children and yourself manage the whole month with the balance, i.e ten rupees. Am I right? "
" Yes sir. "
" !!!!!! "
----------------------
Jaangu Chakku Jajakku Chakku Jaangu Chakku Chcha.

" You have written in your application that your husband died of cardiac arrest "
" No madam, he died of heart attack only "
" Oh, then there must be some error in the application. I'll correct it."
" All right Sir. "

Jaangu Chakku Jajakku Chakku Jaangu Chakku Social work Chcha.

Jingadi Jinga Jee Boombaa Jingadi Jingaa

Jingadi Jinga Jee Boombaa Jingadi Jingaa

" Next please. Come here. "
----------------------

2) SUFFICE IF EVERYTHING IS MYSTERIOUS SOMEHOW

( Translation of Gopi Krishnan's short – story in Tamil Captioned, ' Eppadiyoe Ellaam Marmamaaga Irundhaal Sari ' Which was published in Dhinamani Kadhir, the Sunday Supplement of Thinamani, a leading daily in Tamil and included in his short – story collection ' Mudiyaadha Saman )

Translated into English by - Latha Ramakrishnan

' Jal…jal…jal…'. Now the compound door began to moan in a low voice. The dog's moan is given very many an interpretation. That the dogs would moan on being confronted by a ghost is one of those. Further, the dog's moan would evoke intense sadness in one's heart. A scene depicting one's last day on earth with all the losses, sorrows, pains an sufferings of the day would be flashed across the screen deep inside. Then, the jal…jal…jal… would be a female ghost. My body was all drenched in sweat. The tongue had gone dry. I felt as if I couldn't talk. Above all, my sense had turned all the more sharp. My eyes were eagerly looking for a woman in a white saree to appear at the window. After a short while the electricity was resumed. For almost half-an-hour nothing happened. Feeling acutely uncomfortable I was twisting and turning in my mat, groaning.
While coming back all alone after viewing a late night show, if we happen to hear any young woman's voice full of thirst and longing, or, the jingling sound of anklets, or, if there spreads the smell of jasmine from out of blue, we should tread with great caution; should keep our eyes tightly closed. Keeping the direction in mind we should walk ahead hurriedly. We should not cast a backward glance on any account. Especially men, that too, young men should be doubly careful. Mohini is a very vicious ghost.
Once a boy in his teens was returning from a late night show, all alone through the open fields. He was coming in his cycle. Hearing the sweet, inviting voice of a girl from behind, he looked back. A very beautiful girl. Young and voluptuous. Her head was loaded with jasmine. She requested for a lift in his cycle and he all too gladly allowed her to sit in front of him and started pedaling happily. In the close proximity of the two bodies the sensuous feelings were steadily rising and she herself showed the green signal, saying, " let's sit here and have a heart-to-heart talk ". Rightly reading between the lines he took her to a bushy spot between two heaps of straw. On completion of the much-awaited thing her right hand extended upward. And, it kept on extending, upward, upward, upward. And, the boy's talk ended right there.
The sound of someone on the terrace, much in the military fashion could be heard all too clearly. sarrack… sarrack… sarrack… Steady steps; strong, firm sound of shoes. It started exactly above the center of my head. Moving to the right, it slowly died. And, from the side where it had died down it resumed and came to stop exactly at the same spot above the center of my head. Fear gripped me ' Jadamundi '.
I lay there paralysed. Then, forcing me to be a little brave, I glanced sideways through the window. The same huge building stood on the other side. In its third floor light could be seen through four rooms. The doors of the windows remained closed. Barely a minute. Suddenly all the lights went off at exactly the same moment. The building was submerged in the deluge of darkness. ' The Mysterious Mansion' - as something within said so I atonce moved away from the spot where I was standing and laid me down on the mat hurriedly. Some noise could be heard from the 'Murungai' tree. An owl's cry rose nightmarishly from nowhere.
Suddenly the smell of jasmine assaulted the nostrils. But, there was absolutely no jal…jal…jal…jal… That means, the ghost or, rather, ghostess Mohini must be approaching stealthily, under the garb of invisibility. What for the Mohini is craving after a much worn-out man….. I felt terror-struck.
My wife was wearing the flowers of Mohini. Placing the pillow a little away I placed myself out of her reach and lay down, feeling jittery. Some blockade in the throat. A strange kind of cough burst out of me in an unusual manner. At the same time a dog gave out a brief bark. That sound was similar to a cough of sort. Man – dog, dog – man, dog – I !.
I had prepared strong black coffee and was drinking it. That tasted tea. The shiver of fear had come to be wide spread within.
Taking out a book I started reading it. Two new types of 'Chathaan' (devil), hitherto unmentioned, were talked of in the book. 'Izhuthadi Chathaan', 'Sambari Chathaan'. The 'Chathaans' had appeared in apt places. I re - read it, focussing my attention.
One sentence meant 'He should be made to run from pillar to post_ 'Izhuthadichathaan' and so taught a lesson, and , the other said, ' If only we earn a little_ Sambarichathaan _ we can hope to survive.

Unable to concentrate on the book I sought refuge on the mat once again.

I was shaking my wife. My hands were shaking my kid.

I was sitting on the mat, half asleep. In front of me there was a plate full of glass – pieces, evenly powdered. My child took a little from it and tried to put it into her mouth. I rose up, extremely agitated and knocked it off from her grasp. Thank God, a terrible accident was averted. Taken aback, my child was looking bewildered and as my wife came out of the kitchen she started complaining, " See Mummy, I was eating sugar and Daddy had knocked it off ".
On my way to office, once again the smell of jasmine came to fill my nostrils. As far as I could see there was no woman in that lane, nor any jasmine flower vendor.
" Hello Sir, remember me? " - A familiar face.
" Hello, aren't you Chandru? When did you come from Thiruvarur?"
" What sir, you've forgotten me so soon. I'm typewriter mechanic shop Gopi"
' How come Chandru and Gopi turned to be one and the same…? '.
- Going inside the office, before I could start my work, my colleague Ramanathan came near my table. "What's this, looking so pale, as if hit hard by a ghost? Any bad dream? " asked he.
" Bad dream or bad reality – nothing is known at all. Dammit ".

I was waiting at the bus–stand to board the bus that would take me to Thiruvanmiyur. Turning to the right every how and then, I was looking for the bus. In between the housing – board buildings the evening sun could be seen. A wonderful orange circle. In a few seconds there appeared three suns. I removed the spectacles and looked. There appeared only one sun.
I wore the glasses. Now, once again I could see three suns. Without removing the glasses I kept on looking. One bus only; not three buses. A woman was going on foot. Not three women.
I visited the Association for a change. The secretary was present. "If I am to die, now, none would know anything ", said he. "Does that mean your death is going to be a mysterious death?", asked I, highly agitated. That made him look angry and then, confused. After a few seconds, "All the matters and all income-expenditure particulars of our Association are registered in my mind only. My mind is an 'Association Diary'. Suppose I depart all on a sudden one day, these fellows would go mad, not knowing the accounts", explained he. "Sorry I took your words in a different way ", I said weakly. "No one understands me properly" he regretted.
"Man can have any type of death. But not a mysterious one. That's why I became a little unsettled, " said I. The secretary's countenance had turned gloomy.
A Hindi play was being telecast on the small screen. In a fort a king was chasing a girl with the intention of raping her. The chase was proceeding on the topmost portion of the fort. The girl jumps down and dies. Then, the jingling sound of the anklets. Some noise through the dry leaves, as that of foot-steps.
With the hairs standing erect and the body turning icy–cold I switched off the television–set. In the ears within, the 'jal.. jal..' sound rang one more time and turned silent.
I went to see friend Chandrakant ,the Editor-cum-Publisher of a magazine, in order to know what he thought of my review or the reader's viewpoints, about a book.
"The book is very good. I like it very much. But, your review alone is all trash. How is that? "asked he. Feeling so low, "I will think over and then write a letter to you ", said I.
When I returned home, there was a magazine, which must've come by post, on my table. I had sent two poems to that magazine. That which I considered a very good piece of work was rejected and the 'not-so-good' one was published.
After two days, a letter that had my name and address written in my hand came to me. In the space meant for the addressee's name and address mine was written and in the sender's space, that of Chandrakanth.
Mystery is no more a mystery to me.

************************

(3) THOSE TAKEN NOTE OF IN A SYMPOSIUM

(A short-story in Tamil titled 'Karutharangil Kanakkil Kollappatavaigal
written by Gopikrishnan. Translated into English by Latha Ramakrishnan)

Just two days earlier only, an invitation – card and a letter had come to the Director of the project in which Samikannu was working. It was an invitation for a Symposium. How the Society should view and treat those labelled Mentally ill' was the subject-matter. The letter was with the request that Samikannu should participate in the Symposium. The Director had no alternative. As not sending Samikannu as their representative would cause friction between their two service organizations. So, the director allowed Samikannu to go.
Samikannu was a great master in the game. The social-workers of those seven or eight social – service organizations in the city were his close friends. For any seminar, symposium, debate and things like that they would send invitation to Samikannu's project-director and alongwith the invitation they would always send a letter asking for the participation of Samikannu in the said programme and so would keep reviving their friendship. This arrangement suited Samikannu very much.
The reason was very simple. Samikannu liked those dishes, biriyani etc., that are usually offered in the seminars. He liked them all very much. Mostly they would be qualitatively rich and very tasty. He would eat them all to his heart's content. In some seminars Payasam, Ice-cream, Beeda and all other items of a grand feast would be made available. In these seven or eight years since his joining the band of professional social- workers Samikannu had attended a lot of such seminars. Because of this the Director is a bit jealous of him. Further, these seminars offered a strange pleasure of viewing a social-service vanityfair for one whole day without having to lose a day's leave.
Samikannu had read a lot of books on Psychiatry and Anti–Psychiatry. He had reached a stage where he felt, kind of, overloaded with the stuff. At one point he even became tired of it all. Moreover, for four and a half years he was working as a part–time social- worker in a private psychiatric clinic. In all those days he had been a sincere and straight forward social-worker and this had given him so much peace and content. It is in this background that Samikannu had won the invitation for the symposium.
'New Life' was the organization. Those patients labelled 'mentally ill' who were put back on the path of recovery, before making a re-entry into their families, stayed there for several months and learnt to mould their personalities in accordance with the requirements and expectations of their families and society. Thus, New Life trained them to succeed in their new life. It was the venue situated in a lonely corner along the hundred–feet road in Vadapalani.
The symposium was taking place that day. Samikannu glanced through the Programme card. The programme was to start at 10.30 a.m. Samikannu avoided a lot of unnecessary things such as the Prayer song, Welcome address, Introducing the speakers, etc. Then, it would be enough if the venue was reached by 11.15 a.m. Only then the speech of the Psychiatrist would begin. By 11 a.m. Samikannu set out, locking his room.
By the time he reached 'New Life' it was 11.20. Leaving his moped in a corner of the venue, he went into the symposium – hall.
The Psychiatrist, a female, was speaking. The various types of mental illness, their symptoms, treatment – so, she was piling heaps of information and details. Samikannu knew them all by heart. Nothing was new to him. There was just one thing that was worthy of his attention. The speech was in pure, decent, spoken Tamil. But, instead of saying 'Jana Nerisal' (over crowding of people) she used the term 'Jana Nerukkadi' (Crisis of People) which he found unpalatable. Ok, just one mistake. So, Samikannu condoned it.
There was a small intermission. Many biscuits and coffee were distributed. Samikannu firmly rejected the offer of Mary. He never liked Mary biscuit. A kind of hatred he had for it, so to say.
Samikannu was averse only to Mary biscuits but he liked Mary, she who was working in his section, very much. She would always talk to him affectionately. Samikannu would also be eagerly awaiting those opportunities when he could have a chit chat with her. He would talk to her with all love. The sweet–nothings, in a manner of speaking, would prove a great morale booster.
It is indeed important for the readers to know what Samikannu has to say regarding such harmless womanizing. This would provide several helpful tips for the young and the middle age. So, I appeal to the editor whoever is going to publish this story not to delete this paragraph and the next one. If this appeal goes unheeded and the paragraphs deleted, Samikannu who is so steeped in sorrows and sufferings and yet keep going with the help of his sense of humour alone would suffer all the more on account of it.
O.K, now, let's analyse that which is called ' Jollu '. Jollu is a thick, colourless liquid. It would have a sweet taste. A gland situated near the heart procreates this liquid coming from the vein through a thin tube-like vessel upto the mouth it would create a kind of jelly – like moisture in the mouth. When that moisture spreads inside the mouth, the mouth would utter all sweet nothings. From the right corner of the lips the liquid would seep and turn the cheek, throat, etc., all wet. True, the shirt would be dried up with the help of the fan, but still, it would be always better to wash it with water and brushing it and then hang it under the sun for drying up. Otherwise, lots of ants would crowd it for tasting the sweetness of the overflown saliva.
As mentioned earlier, Samikannu had great liking for Mary. So also, he liked 'mouth -watering'(Jollu) a lot. At times the thought that in disliking Mary biscuit so intensely he was betraying his beloved Mary, would trouble his mind. Yet, however much he tried, he couldn't bring himself to liking the taste of Mary biscuit. That which he liked very much was 'Good Day ' biscuits which would not be distributed in the Seminars. And, because of this prejudice Samikannu had to go through the proceedings of seminars without the help of the catalyst called biscuits.
Drinking coffee Samikannu felt an urge to go, ease himself. It was said that the toilets were in a remote place at the right – hand corner of the ground.
Samikannu walked hurriedly and reached that spot. There was a lavatory at the left - hand side and a bathroom and a loo at the right - hand side.
Samikannu got into the loo at the left hand side and attended the nature's call '. There was a tap and a square tin vessel. Filling the tin – vessel with water and pouring it down into the loo-hole, so cleaning it, he then washed his hands with water and wiped them in his handkerchief, and then, after closing the door of the toilet, came back to sit in his chair.
A servant was collecting those empty coffee – cups and arranging them in a large tray. In the small vacant space near the mike the psychiatrist was standing and a small crowd had gathered round her. Two elderly men and three ladies were in that crowd. Some of their relatives could be the immates of New Life, thought Samikannu.
Samikannu felt that he had several things to share with the psychiatrist; that, the mental illness which the psychiatrist mentioned was there in Agatha Christie and that Mohammed Basheer wrote his much–acclaimed work 'Fathima's Sheep' when he was undergoing treatment in a Mental Health Institute – Samikannu wanted to ask the psychiatrist whether she knew these things, and ,whether she knew them or not ,he wanted to talk to her about those things for which he felt the need to talk to her for a few minutes. Waiting for his chance he stood there among the small crowd with his pen and shoulder bag. Four or five times he opened his mouth to launch the conversation ,but, failed. An elderly person in dhoti was having the psychiatrist all to himself.
When it looked that Samikannu's chance had atlast come he was denied permission.For, the next speaker was about to begin her discourse. A lady wearing glasses came and informed him that the psychiatrist would be there till 4 p.m and requested him to have his talk with the psychiatrist later on. Samikannu felt highly insulted. The doctor also said that he would be there till four o' clock. With a terrible feeling of discomfort inside, Samikannu went to sit in his chair at the last row.

The next speaker had a doctorate to her credit. She gave a speech on the theme ' Tension and Mental Illness '. Her speech elaborated on how a particular gland in the body caused tension within and so lead to mental illness. The speech was in English. It was not so profound and all. That she had obtained her Doctorate from America and that she was a regular contributor of analytical essays and articles on psychiatry in a reputed magazine on Mental Health – so the lady who introduced the speaker, the same one who had blocked his way to the psychiatrist, highlighted the speaker's credentials. Somehow her speech failed to impress Samikannu. Her speech was of the bookish type as that of one who after reading a science lesson in S.S.L.C telling the lesson in her mother tongue. Just that much and no more.

There arose in Samikannu very many serious doubts regarding the quality of her analytical writings. She was a Neuro Psychologist. She belonged to that private hospital which was indulging in mass-scale day-light robbery, the biggest of its kind in the city, and so turn the patients and their kith and kin all-time paupers. For about half-an-hour she suffocated him with her speech.
Next came a social-worker of a private psychiatric clinic. His discourse centered on how the clients should adjust with their illness and keep going with it. The social-worker was tall and slim like the willow. Youngster. Enterprizing. But, his Tamil proved the veritable villain. He called English to his aid. Unable to grasp the Tamil equivalent for 'Attitude ' he fumbled a lot. Samikannu felt like getting up and lending help to him. At one point the speaker called 'Mental Illness' a misfortune. Samikannu couldn't agree with it. ' Mental Illness is a different State of Mind. That's all. It is no misfortune nor ill–fate. In fact, if one has the tact to use those symptoms of psychological imbalance to his benefit it can well turn out to be a boon to him '.
As if to add salt to such foolish insights a white screen was tied widespread at the back of the dais. There appeared short–clippings and notes about the illness in various colours, with the help of slides, on the screen. The speech stopped midway. The clippings were in Tamil, comprehensible for all those who knew Tamil.
Yet, as an aged fool requested that they be explained, the environment turned polluted. A social-worker of average height who belonged to that same organization came forward to offer explanations. With hip-belt and modern footwear he looked handsome. True, he couldn't be called outstandingly handsome but still one could classify him as handsome. Handsome enough to make any college girl fall flat. The exclusive attraction of youth was bubbling all over his face. And, he was taking extra–care not to let that bubble drop down and turn into nothing.
His explanations revealed him as a thorough scoundrel. Tamil proved to be his bitter enemy. Even the pronunciation of those English words which were ill-mixed in his speech sounded terrible. It could be that he had come from a different State. The youngster's speech which had preceded this one's eloquence was far better.
The slide-screening and speech-giving rituals went on in all ugliness and at last came to a close.
Amidst all this din and noise Samikannu managed to prepare a list of the names of all those books in Tamil that had so far been written on Mental Illness. He wrote down the list of the titles of these books in a half sheet. He felt duty–bound to hand over the list to the psychiatrist. Further, of the many speakers that female alone seemed to have a fairly sound grasp of the language of Tamil. Also, that female happened to be the chief–guest of the function.
The next speaker was a female. She too was a social-worker. She spoke on the theme, ' The Role of Family in the Rehabilitation of the Mentally Ill '. She called herself as one doing social service. Those who had acquired an M.A. in the faculty of social–work should not call themselves as doing social – service. They should only say that they were doing social work. But, she was not aware of the term 'Professional Social – Worker'.
That woman was giving a speech in the manner of an upcoming politician. Time and again she kept adopting the verbiage of the political meetings. And, she also joked a lot.
She kept on pronuncing the Tamil term 'Mana Noi ' ( Mental Illness ) as 'Manna Noi ' (which means illness pertaining to marriage). Samikannu thought that she was mentioning about husbands who went to bed with women other than their wives, without taking any precaution and then pass on the venereal disease that they had earned through their adultery, to their legally wedded wives.
Again she mispronounced the word 'Mana Nalam' (the well-being of the mind and heart) as 'Manna Nalam'(the well-being of the marital bondage). And so, when she said 'Manna Nalam Penudhal ' instead of ' Mana Nalam Penudhal' Samikannu pledged to himself that he would treat his wife with all fairness and so would look after the well–being (penudhal) of their marriage.
Next she said 'Manna Thidam' instead of 'Mana Thidam'(meaning the grit and determination of the mind and heart ) and Samikannu assumed that she was referring to the way the husband and wife keep going having the grit and determination to tolerate each other.
In the end she said in her usual mispronunciation 'Mana Nala Maruthuvar ' (Maruthuvar means Doctor). This created some confusion in Samikannu's power of comprehension. There could be marriage counselors'( Manna Nala Aalochagar )', who would set right any crack in the husband–wife relationship with the help of fevicol and what not. He had heard of them. But, he couldn't solve the mystery as to why a doctor was needed to make a marriage work against all odds. ' But, if one with M.A in Social-Work said so there should be some specific and especial reason for it, and that it was beyond his dull-head to see the significance ', thought Samikaannu.
At three places she cited some verses as examples. But they were completely out of place.
As she finished her auspicious discourse on 'Mannam', i.e, Marriage, there came the announcement of the lunch interval. It was Samikannu's much–awaited psychological moment.
As he felt the urgent need to urinate he almost ran towards the toilet. The door of the lavatory at the left side was closed. The sound of the water pouring into the mug could be heard. Samikannu went inside the right–hand side Loo and relieved himself and then walked in the direction of the dinning hall.
Small hall only. It was houseful. And, outside the hall some ten to fifteen students were waiting for their turn. Salvar-Khameez, Shawl, Churidhaars, Jeans, Kurthaas – so on and so forth. Samikannu was left alone. Moving away from that spot he came to stand on the sand by the side of the hall, and, raising his eyes and head above, kept gazing at the sky. The sky looked a little cloudy. He stood contemplating seriously about the miserable state of affairs in the field of Social-Work.
After a while once again he went near the dining-hall. Those female students who were standing outside the hall earlier couldn't be seen. The hall was full. It could be that those students were having their lunch, nay, feast. 'If so, where is room for me? ' Indeed, not available. After all of them had their belly full he should eat sitting all alone. ' That would look terrible. But, no other go '. Worried, he came near the sand and stood there.
When he advanced near the hall once again, those female students were entering inside for place in the next round of lunch service.
Samikannu turned alive. At that juncture it was all–important for him to be alive and kicking. For, only then he could take a plunge into the conference – feast.
Samikannu was standing there, hesitant and lost. An elderly person invited him inside. Showing a row he told Samikannu first in English and then in Tamil, "You can go inside". 'What a wonderful translator! ' _ so Samikannu applauded him with all his heart and felt supremely happy.
The food was splendidly delicious. Vegetarian only. It didn't matter. As if in each and everyone of the symposiums in and around the city they served biriyani !. He asked for a second cup full of 'kootu' and side-dish and fed himself in gay abandon. When he was having curd–rice a plastic cup full of 'payasam' was placed on one corner of his plantain – leaf. They had applied orange- dye to the payasam. As the young girl who served asked him whether he would like to have another cup he nodded his head greedily. He drank the second cup also with great passion. After drinking water and washing his hand Samikannu's life must have attained salvation. But nothing of that sort took place. Samikannu had no faith in rebirth and salvation. That 'beeda' was not offered turned out to be the worst possible worries of the day for Samikannu.
In the afternoon session there was just group discussion. Only a few had gathered in the seminar -hall. In the row straight in front of Samikannu there sat a middle-aged woman and an old lady in the right side and an old man next to her.
One end of the woman's saree was stuck in one corner of the steel chair. As the old woman pointed it out the middle-aged woman pulled the saree portion and the portion tore off. As the woman kept on pulling it harshly, the tear went on widening. Unable to bear it any longer Samikannu told her that by folding the chair the stuck portion of the saree could be freed without further damage. The woman heeded to his advice and so saved the saree. She thanked him. He kept it inside his pocket with great care.
The aged woman was now telling something to her old man in a feeble voice. Hurriedly the old man turned to the back of the chair. There a grey–coloured insect was trying to climb on the rear side leg of the chair. Removing his right–leg slipper the old man hit the insect hard and killed it. Samikannu felt like kicking the old man. Going through the chart that laid down six conditions which one should adhere to in order to keep one's mind healthy the old man was noting them down calmly in a paper. Of the conditions atleast three could be followed only in the Western countries.
The crowd started coming in. At last Samikannu succeeded in his effort to attract the attention of the psychiatrist. "For a long time you have been trying to have a word with me, isn't it so? " asked the lady. "Nothing. Just to give these to you ", - So saying, Samikannu gave her the folded half–sheet wherein he had listed out the names of those Tamil books, Glancing at it disinterestedly, " I'll read them if time permits ", said she. Samikannu felt as it someone was causing his death with just one hard blow. Indeed the blow left him breathless. Such great books…!.
A very old person was standing next to him. He asked what books they were when he came back to sit in his chair. Sitting next to him he asked him once again about the books, eagerly. His enquiry brought back some of Samikannu's heart beats. "If you have a piece of paper, please give it ". I'll give the names of those". The very old person gave his invitation card. Samikannu could write just the name of the bookshop on the available space. 'At the shop one could get detailed information regarding those books' said he. The fact that there were literary works available on Mental Illness surprised the old person greatly. Seeing the man's eagerness and enthusiasm Samikannu became elated and made him sit on his lap with great care and affection. But, as he proved too heavy to bear, Samikannu placed him carefully in the adjacent chair as before.
There was a lady wearing nose–ring, in the crowd. If only Samikannu had sufficient money and suitable beloved, he would have bought such a nose – ring and presented it to his ladylove.
The crowd divided itself into three groups for the purpose of discussion. Samikannu felt greatly disappointed at not being included in the group in which the lady with the nose–ring was.

In Samikannu's group the old person eager to know about those important books, another person older than him, a bespectacled man and a lady in her forties were there. The relatives of all the three were staying in New Life. The social-worker who called 'Mental Illness 'as 'marital illness' was also in their group. Her hair looked dishevelled. Samikannu whole–heartedly offered his comb, taking it out from the rearside pocket of his pants, and, with its help she combed her hair with great care. Samikannu kept his imaginary comb back in it right place safely.
They all seated themselves in a circle. Each one introduced himself / herself. Agatha came next to Samikannu and Josephine came next and Joseph, next to next. The Last two were students of Social-Work Degree Course.
First, the tall one began to speak of his problem. That his sister was down with psychological set–back and that she was staying in New Life and for her stay he had to shell out a full thousand rupees every month – revealed he in a tone of regret. Agatha looked active and highly energetic in salwar–khameez and blue–colour shawl. "You are the one to pay for your sister's well-being. Why do you regret it? " said she directly. That was enough for Samikannu to develop an instant liking for her. For, the argument that she had put forth was indeed very valid.

"Can you afford to leave your sister in the lurch?" - asked Samikannu hotly. Taken aback, the tall man fumbled. Saying that it was not so, he explained that his family meant his wife, two sons and himself. 'If he allowed a slight change in his description of family he could easily include his sister also in it and it wouldn't pose any problem', felt Samikannu and voiced out his viewpoint. That Agatha too joined him provided him great comfort.
Joseph gave all sort of stupid and wrong advices and so tried to drag Agatha to his side but failed miserably in his efforts. With thorough glee Samikannu was progresssing forward.
Mentioning the name of a religious head the auspicious social-worker was suggesting whether they could go seek some help form that person. Samikannu turned this situation to his benefit. Segregating Agatha from others, he asked her, " Do you believe in this thing called religion?". Before she could open her mouth to say something, "Do you know that this religious head is a womanizer of the worst order?", asked he further, springing a surprise on her. As Joseph waved his hand to say something Agatha cut him short and ignored him.
Though initially it proved difficult for Agatha to share herself between young Joseph and 'thirtyfive plus' Samikannu, in the end she leaned towards Samikannu only. And Samikannu gathered her who had come to lean on him and laid her on his broad chest. And, he fondly caressed her soft hair smelling sweet with Roja Shampoo fragrance.
Agatha was completely bowled over by Samikannu's wisdom and intelligence. Logical joke exclusively for her eyes, she was all – laughter.
Thenceforth, till the close of the symposium Agatha belonged to Samikannu. Joseph had suffered a severe defeat.
Samikannu made a crack in the ceiling of the seminar hall and hoisted his blue flag of victory on the roof-top. Those who had gone along the hundred feet road near Vadapalani area at about 4.20p.m on 03.01.97 would have seen it. They would have praised the glory of its majestic beauty.
Samikannu felt a great pride in his achievement, greater than that felt by Edmund Hillary and Tensing on becoming the first men to set foot on Mount Everest. Getting down from the roof in a semi–drunken state, he once again joined the group-discussion.
Samikannu and Agatha as partners in a joint venture succeeded in tearing the tall man to pieces. The tall man said miserably that his wife had once said hysterically, "If you are too particular about having your sister with you, then go get a separate house for both of you and keep her with you. I can't have her here and lose my life. Go with her if you like. If you choose to go I'll be losing my 'mangalsuthra' only ".
" Is mangalsuthra that very essential for your wife in this advanced age? ". Despite his self–control Samikannu couldn't help asking. The query unnerved the tall man. He got up and shouted something. Then, sat again.

In the end the auspicious social-worker came out with a vague suggestion that if needed, the social worker Joseph, as part of his field–work could go to the tall man's house and talk at length on the issue at hand and Joseph noted down the address in a piece of paper, feeling acutely indifferent.
Then came the turn of the elderly one who had shown interest in books. He introduced himself as an S.S.L.C of the ancient times and pointed out that it was equivalent to the present day B.A., Samikannu took on the role of a morale booster and held him sky – high saying that his achievement was not that little but that his old S.S.L.C was more than equal to the present day Ph.D. The old man expressed his profound gratitude turning humility-personified. He uttered the word 'handicraft' whenever he had to say 'handicapped'. He didn't have much problems to elaborate. The old man was a retired Railway officer.
None could hear what the lady said. Joseph and the auspicious female said something to that lady.
Josephine didn't say a word till the end. Being mum is a safe escape route, so to say.
Looking at the auspicious social-worker Joseph said " Your speech was very profound madam ". "Ice, ice! ", said Agatha. Alongwith the routine seasonal chillness and the cool breeze being spread by the ceiling fan, one could feel an added degree of chillness that had come to be, all too suddenly, in the environment. Samikannu fixed the topmost button of his shirt too and covered himself tightly.
The group-discussion had at last come to an end. The crowd began to disperse.
Somehow the 'vote of thanks' was not given. It could be that none conducted himself / herself in a manner that would earn them the vote of thanks.
Holding a gift – parcel the psychiatrist was walking towards the exit.
Conversing, Agatha and Samikannu came down the stairs. Samikannu went on telling her several jokes on social-work and Agatha was laughing uncontrollably, relishing them all. Samikannu kept holding her in a firm, fond grip, by way of preventing her from falling down from too much of jerky laughter. Both of them parted ways near Samikannu's moped. On Agartha's request Samikannu gave her the name and address of his social-service organization and also the telephone number. Telling that she would definitely come and meet him after speaking to him over the phone and informing him of the time of her arrival, Agatha took leave of him.
Samikannu climbed on to the roof-top of the Seminar – Hall and untied his victory flag, and, folding it, kept it safely inside his shoulder – bag.
Samikannu felt excited to the core. At the peak of his ecstasy he felt the urgent need to urinate.
He walked in the direction of the loo. The door of the left hand side toilet remained opened. Samikannu who almost set his first step into the cabin, withdrew it backwards. That turned out to be a living room. A middle–aged poor lady was sitting on the floor wearing a dirty cotton saree. Next to her sat two small girls eating something from the plates placed in front of them.
In the right –hand corner there stood a kerosene stove, lighted. By the side of the stove the folded half–sheet containing the list of names of those literary works, given by Samikannu to the psychiatrist, was lying, lost and orphaned.
Samikannu relieved himself in the right–hand side loo. His moped which would usually start only after several sound kicks turned sensitive and alive at the first kick itself.
Samikannu had taken a room for rent in a house in a narrow lane opposite the Brittania Company. A kitchen and a living room.
Near Thirumangalam his moped's smooth run was disturbed by the traffic signal. Close by,'Joseph and Brother'Funeral Van was proceeding to bring the dead body of someone. As soon as the Red changed to Green Samikannu's moped resumed its run. 'Joseph and Brother ' was ahead of him, running at a great speed.
By about 5.30p.m Samikannu reached his dwelling site. Bringing his moped inside through the passage, he made it stand near his room.
In the living room there were two huge almirahs with five rows each, on the wall itself.
The right hand side almirah was brimming with books. In the left-hand side rows and in the third-row there were some flags. Taking the victory flag from the shoulder –bag and pressing it smoothly and so removing its wrinkles Samikannu folded it neatly and placed it on top of those flags.
In the last row there was a big tin – box. Opening the lid, Samikannu carefully took out the 'thanks' from his shirt–pocket and placed it inside. As the box was already full, some two or three thanks fell down and scattered on the floor. Samikannu collected those too and placed them inside the box and then closed the lid tightly. 'Should buy a new tin-box', thought he.
Without even transferring himself into a lungi he spread the mat and came to sit on it and contemplate. He asked himself whether he had learnt anything new and hitherto unknown useful information in the symposium. The answer was immediate; a firm 'No'. Feeling terribly exhausted he laid himself on the mat.

Ten minutes went by. The sound of some one knocking at the door could be heard. Two nuns wearing long black gowns entered in. Their faces looked familiar as those seen in the symposium. They gestured Samikannu to come outside. He went with them.
A stretcher which would be commonly used in a hospital was laid down on the passage. The nuns asked him to lie flat on it. Inhaling the air for the last time, Samikannu stretched himself on it comfortably.
Near the entrance there was a white coffin and also the 'Joseph and Brother' Funeral Van in the street. The nuns dismounted Samikannu's corpse into the box. The backside door of the van opened. Two aged ladies in dirty attires came out. Their faces looked familiar as seen in another symposium. They closed the coffin and nailed it on all sides.
The nuns and the old women together carried the coffin and placed it inside the van. One of the nuns kept a red rose on the box, above the head. The van started. The old women sat near the coffin, by its side. The stench of rotten 'Marie' biscuits was all spread within.
The van which moved on slowly came to a halt near the Arpudhanathar Church. In the church a 'Father' stood near the coffin and offered prayers.

Those female students who attended the symposium carried the coffin in their hands. Before they could reach the entrance of the burial-ground the sun had disappeared completely ,and, all around it had turned quite dark.
The nuns and the old women disappeared. The stench of the biscuit too had gone away without a trace.
Going past many a tomb bearing the Cross, the coffin was carried a long way in a procession. At last the grave, dug for Samikannu, came into sight. The coffin was slowly dismounted into the pit.
Joseph and Agatha heaped sands on it with the help of a shovel and closed the grave-pit. Four female students jointly brought a heavy Cross and placed it there in an erected position. Faraway, a Father's outline was seen thinly.
Across the Cross a small note was inscribed. It read thus :
S.Samikannu, M.A ( Social Work )-
One who rejected the soul itself
who was pardoned only in his Death.
A lover of Seminars and Symposiums.

Arrival - 05.01.1962 Depature - 03.01.1997

The female students were coming out of the graveyard and were moving away.
Joseph and Agatha were coming out at the fag end.
It was drizzling softly.

ramakrishnan latha: ramakrishnanlatha@yahoo.com.